Are you looking for information on how to work as a Park Ranger in Georgia? Here, we have compiled some helpful information on Georgia Park Ranger Training and Degree Requirements for you.
Departments all over the state are constantly looking to fill park ranger positions in Georgia.
Here are just a few of the great parks in the state of Georgia:
One of the more popular activities that people in Georgia enjoy is kayaking which is great in Okefenokee National Wildlife Refuge.
Find schools and get information on the program that's
right for you.
(It's fast and free!)
Featured Schools
Georgia Park Ranger Requirements
The National Park Service is responsible for hiring federal park rangers, those looking to have police abilities will need to meet the following requirements:
Basic Prerequisites:
Must be 21 years of age
Possess a current driver's license
Educational Prerequisites:
GS-05
Bachelor's Degree with a minimum of 24 hours of semester hours of relevant coursework

OR

1 year experience as:

park guide
law enforcement officer

A combination of education and experience
GS-07
Graduate school – 1 year

OR:

1 year experience in law enforcement
Experience and education
Discover online park ranger educational opportunities in Georgia that are a match for you!
Georgia Park Ranger Job Duties
The responsibilities that park rangers in the state of Georgia hold are different depending on your place of employment and the type of ranger you are, some types of park rangers include.
Interpretive
Enforcement
Facility care
As of now the Department of Natural Resources is looking to scale back on law enforcement capabilities of rangers starting by 2018.
Interpretive park rangers in Georgia, commonly referred to naturalist curators, give information to visitors on subjects including the following:
The scientific and natural characteristics of the area
Forestry systems
The background story of the land
Gerogia Park Ranger Education and Training Requirements
Georgia does approve applicants from various qualifications, but in order to become a park ranger in the state you will need to fit these minimum requirements:
Bachelor's degree in any major without any expertise demand
Associate's degree with a single year of full time expertise in one among these areas:
Culture
Education
Environmental studies
History
Recreational
Although a specific major isn't defined for those looking to become a park ranger, but these areas are common (and considered fairly important) for degrees:
Forestry
Biology
Criminal justice
Before being hired, all applicants must pass an exhaustive background check.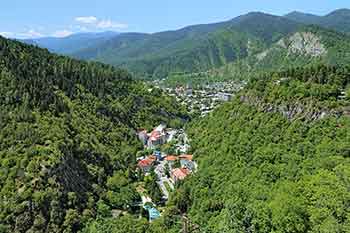 Conditions to Become a Facility Care Park Ranger
As 2014, there has been a new position listed as "parks and golf care tech", which requires the following skills:
A degree in the vocational or technical field
OR
One year of experience in

Property care
Building care
General repairs
Generally, applicants for enforcement park ranger agencies in Georgia who don't have certification and PLACE training will need to pass an entrance examination. The POST Council uses two tests that will differ depending on which testing facility in which you are placed.
ASSET test
– A paper and pencil evaluation
– Results will undoubtedly be around in 10 days
COMPASS test
– Computer based
– Results are instant
Those looking to complete an examination will need to go to the Georgia Department of Natural Resource's website and complete the POST Entrance Exam Access Form.
The DNR representatives will evaluate your test scores and decide accordingly. Although your are required to take the math portion of the exam, they will not be evaluating you on that section.
Salary Information for Park Rangers in Georgia
Park Rangers in Georgia take home a great salary while pursuing a fulfilling career protecting the land of his or her state. According to the Bureau of Labor Statistics, the average Park Ranger in the state of Georgia make a median salary of $60,990 per year.
Park Ranger Programs and Schools in Georgia
Get Your Degree!
Find schools and get information on the program that's right for you.
(It's fast and free!)
Choose your area of study and receive free information about programs you are interested in. Park rangers are responsible for protecting our parks and wilderness areas as well as guiding and educating the public. These duties are the same across the local, state, and national levels. Park rangers pursue degrees related to parks and recreation, environmental science, as well as law enforcement and criminal justice.