Here, we have outlined Colorado Park Ranger Training and Degree Requirements for you on one easy to use page.
The Colorado state parks system is a leader in wildlife management, conservation, and outdoor recreation. This remarkable park system contains more than 300 wildlife areas and 40 state parks through the state.
Fundamental Job Duties for Colorado Park Rangers
Colorado's park rangers perform various guest service responsibilities and law enforcement, in addition to natural resource management. A few of the responsibilities of Colorado's park rangers are:
Patrol land and water, conduct investigations
Assess for park licenses, and proper hunting, fishing permits
Visitor direction and application development
Interpretive services
Direction of seasonal and temporary workers
Conducting tours
Being/working outside and caring for nature
Providing exceptional customer service, socializing with park guests
Collecting environmental data on plant and wildlife populations
Helping injured or missing hikers
Educating people about area and wildlife conservation
Offering visitors advice
Performing firefighting responsibilities and law enforcement, including collecting use license fees and gear sales, and performing property care
Find schools and get information on the program that's
right for you.
(It's fast and free!)
Featured Schools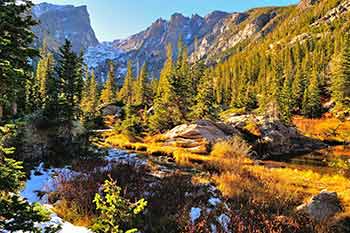 Colorado park rangers are not the only ones serving the state and national parks. Denver's Urban Park Rangers protect park resources, execute guest services, and preserve public security through the city parks in Denver.
Urban Park Rangers are especially trained in CPR, along with public contact techniques, First Aid as well as other life saving techniques. Rangers patrol in vehicles, by bike, or on foot. Rangers on many occasions work with local law enforcement.
Colorado Park Ranger Education
People thinking about park ranger careers in Colorado must have a Bachelor's degree from an accredited university.
Majors that are perceived to be beneficial include:
Biology/Wildlife biology
Ecology/Environmental science
Forestry
Wildlife management
Specialized expertise in parks administration, natural resource management, or law enforcement could possibly be substituted on a year-by-year basis for instruction that was mandatory.
General Conditions
Must have the ability to possess and keep a Colorado state driver's license
Must submit to medicine screening and a medical/psychological examination
Must be able to successfully complete an agility examination
Must be able to pass a background check
In order to be certified as a peace officer, people chosen for State park ranger must undergo the Peace Officer Standards and Training fundamental plan. Furthermore, folks must finish the Colorado Parks and Wildlife Training curriculum.
Discover online park ranger educational opportunities in Colorado that are a match for you!
People enthusiastic about working in one of Colorado's four National parks should apply for National park ranger careers through using the U.S. National Park Service.
Although there are specific requirements for each park ranger position, the standard requirements include:
Must pass a background check/protection investigation
United States citizen
Successfully complete a drug test
Hold a state driver's license
Some National park ranger positions may just ask for a GED or a high school diploma. But, most long-term positions will need a Bachelor's degree from an accredited university. Relevant areas of study include the following:
Business administration
Behavioral sciences/sociology
Park and recreation direction
Archaeology/anthropology
Public management
Museum sciences
History
Coursework in other disciplines could be taken if applicants present abilities and knowledge required for successful job performance in the location to which they apply.
Some places may also consider people with specialized expertise, such as law enforcement work, scientific or technical work, wildlife management, recreation management, or alternative park-related work.
A few examples include:
Software specialist work
Park guide or guest services
Forestry or fire management
Law enforcement
Conservation work
Colorado Park Ranger Training
The particular conditions for certification and training may differ, but will generally include:
Fundamental CPR, first aid, AED and First Responder Certification
Physical Efficiency Battery evaluation
Rescue and search Certification
Place-specific work-related evaluation survey
Salary Information for Park Rangers in Colorado
Park Rangers in Colorado take home a great salary while pursuing a fulfilling career protecting the land of his or her state. According to the Bureau of Labor Statistics, the average Park Ranger in the state of Colorado make a median salary of $58,610 per year.
Park Ranger Programs and Schools in Colorado
Get Your Degree!
Find schools and get information on the program that's right for you.
(It's fast and free!)
Choose your area of study and receive free information about programs you are interested in. Park rangers are responsible for protecting our parks and wilderness areas as well as guiding and educating the public. These duties are the same across the local, state, and national levels. Park rangers pursue degrees related to parks and recreation, environmental science, as well as law enforcement and criminal justice.