Are you interested in learning more about Rhode Island Park Ranger Training and Degree Requirements for career advancement? We have compiled some important information for you here.
Rhode Island's Department of Environmental Management remains focused on the preservation of Rhode Island's natural systems, as well as the on-going health and safety of its residents.
Rhode Island Park Ranger Job Duties
Patrol the State Parks
Help visitors
Promote security inside the state's seashores and parks
Prepare visitors
Types of Rhode Island Park Rangers
Park rangers in Rhode Island can be utilized in a variety of capacities:
Park Ranger I
Has regular contact with the public
Shore facilities and patrols parks to detect and report infractions of regulations and rules
Encourages the safe enjoyment of park facilities
Inspects facilities to test for equipment failures and issues of maintenance
Performs maintenance jobs
Find schools and get information on the program that's
right for you.
(It's fast and free!)
Featured Schools
Park Ranger II
Security and patrol functions, supplies protective value
Interacts with people
Helps and protects park visitors
Encourages the safe enjoyment of beaches and parks
Inspects facilities for equipment failures and care issues
Performs light maintenance responsibilities
Park Ranger III
Functions as shift manager
Manages administrative responsibilities
Finishes reports and documenting processes
Reviews reports involving action on designated shifts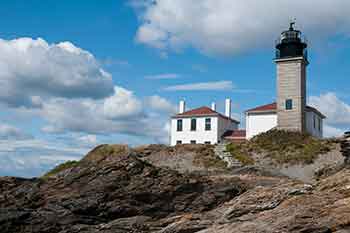 Rhode Island Park Ranger Education
Although education and experience requirements vary for park ranger jobs with the National Park Service, entry-level requirements are comparable to those at the federal pay level. This includes having candidates hold either one year of specialized experience at the level of GS-4, or a Bachelor's degree from an accredited university or college, in addition to a minimum of 24 semester hours of germane coursework in areas such as the following:
Museum sciences
Business administration
Law enforcement/police science
History
Natural resource management
Natural sciences
Park and recreation direction
Earth sciences
Social sciences
People are also able to qualify if they possess the right variety of expertise and instruction.
Park ranger occupations at the national level are generally focused either on protective services or cultural (interpretive) services. People applying for park ranger occupations that are protective must conform to yet another group of demands, that may comprise at least 36 months of expertise within the National Park Service or at a capacity of law enforcement.
Discover online park ranger educational opportunities in Rhode Island that are a match for you!
Rhode Island Park Ranger Training
Training for protective park ranger occupations may happen in the Federal Law Enforcement Training Center (FLETC) in Glynco, Georgia, with added training for most national park rangers occurring at among the subsequent National Park Service's Learning and Development Centers:
Horace Albright Training Center in the Grand Canyon
Historic Preservation Training Center in Frederick, Maryland
Stepehen Mather Training Center in Harpers Ferry, West Virginia
Rhode Island Park Ranger Occupations with the National Park Service
Along with state park ranger work in Rhode Island, national park ranger occupations may be also pursued by people using the National Park Service. Federal park rangers in Rhode Island manage other famous sites, as well as national parks in the state.
Becoming a Park Ranger with the Rhode Island Division of Parks and Diversion
Candidates for these occupations will give themselves a distinct advantage when obtaining an official degree in a related area at the Associate Degree or Bachelors's Degree level; although these degrees are not a prerequisite for attaining employment as park ranger:
Environmental science
Public management
Business administration
Police science
Natural sciences
Earth sciences
Sociology
Applicants chosen for an interview must complete the Criminal Record Auxiliary form for the conclusion of an all-inclusive background investigation.
First training for Rhode Island park rangers will contain facets for example training in first aid and CPR certification training.
Salary Information for Park Rangers in Rhode Island
Park Rangers in Rhode Island take home a great salary while pursuing a fulfilling career protecting the land of his or her state. According to the Bureau of Labor Statistics, the average Park Ranger in the state of Rhode Island makes a median salary between 30,000 and 60,000 per year.
Park Ranger Programs and Schools in Rhode Island
Get Your Degree!
Find schools and get information on the program that's right for you.
(It's fast and free!)
Choose your area of study and receive free information about programs you are interested in. Park rangers are responsible for protecting our parks and wilderness areas as well as guiding and educating the public. These duties are the same across the local, state, and national levels. Park rangers pursue degrees related to parks and recreation, environmental science, as well as law enforcement and criminal justice.