Are you interested in finding out how to be a park ranger in Michigan? Here, we have outlined all the Massachusetts Park Ranger Degree Requirements and Training, just for you!
Due to weather conditions in the state, seasonal park rangers positions run from May to October. For those looking to become state on federal park rangers, full time employment is available. Also, city park ranger jobs can be found in cities like Springfield and Boston. It is possible for each city to have their own set of requirements as determined by that town's Department of Parks and Recreation.
Every conservation officer in Massachusetts bears the duty of supervising their designated region in order to conserve the nature and wildlife in the area, as well as making sure that park guests have a good experience, while following the parks rules. Park rangers will at times need to work with local law enforcement on nature related crimes.
The state of Massachusetts has 143 state recreational areas along with city-managed parks, which hire park rangers. Just a few of these parks are:
Find schools and get information on the program that's
right for you.
(It's fast and free!)
Featured Schools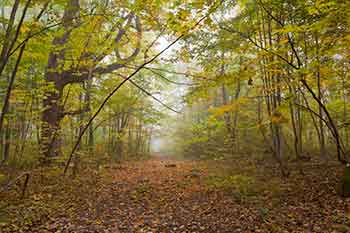 Massachusetts Park Ranger Requirements
Massachusetts is home to almost 100 national parks run by the National Park Service.
Federal park rangers oversee the parks operations, some examples include:
Discover online park ranger educational opportunities in Massachusetts that are a match for you!
In order to be able to work as a park ranger in Massachusetts, you will need to have a valid ID and be a United States citizen on top of the education and experience requirements.
Federal park rangers are hired at the GS-4 level and will need to have one of the following requirements:
2 years education beyond high school and no less than 12 credited hours in relative course work (cultural resource management, archaeology, history, behavioral science, sociology, etc.)
OR
26 weeks of specialized experience and 26 weeks of general experience
OR
A combo of experience and education
Massachusetts Park Ranger Education
Experience and Education – State park rangers in Massachusetts must meet special instruction and experience requirements, which include:
Complete a few years of full time expertise with natural/cultural interpretation, park or environmental education/resource supervison,
OR
At least an Associate's degree with a park interpretation, natural resource mgmt, recreation mgmt, or environmental Ed. major
Obtaining one of the following degrees below will greatly improve your chances of employment:
Certification in Sustainable Tourism Development
B.S. in Leisure and Recreation Studies
B.S.  Natural Resource Economy
B.S. Recreation and Sport Management
B.S. Recreation Management with Camp Management Alternative
Basic – All park ranger work in Massachusetts, whether at civil degree or the state, demand that applicants:
Pass an intensive background check
Be in a position to work any shift, day or night, and weekends and vacations
Pass medical screening evaluation and a physical examination
A minimum of 18 years of age
US Citizen or legal alien
Massachusetts Park Ranger Training
State and city park rangers will need to complete the Seasonal Ranger Academy or the Massachusetts Ranger Academy, dependent on the special occupation. Where the training takes place will be based on the city in which you are employed, with the main center being in Amherst. Another example is Boston rangers who will train in the city and receive unique instructions which legally allow them to carry a firearm when completed.
Additional training necessary for the park ranger occupation is CPR certification and First Responder, together with possession of a current, valid lifesaving or waterfront certificate.
Salary Information for Park Rangers in Massachusetts
Park Rangers in Massachusetts take home a great salary while pursuing a fulfilling career protecting the land of his or her state. According to the Bureau of Labor Statistics, the average Park Ranger in the state of Massachusetts make a median salary of $61,370 per year.
Park Ranger Programs and Schools in Massachusetts
Get Your Degree!
Find schools and get information on the program that's right for you.
(It's fast and free!)
Choose your area of study and receive free information about programs you are interested in. Park rangers are responsible for protecting our parks and wilderness areas as well as guiding and educating the public. These duties are the same across the local, state, and national levels. Park rangers pursue degrees related to parks and recreation, environmental science, as well as law enforcement and criminal justice.